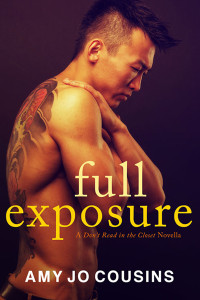 PHOTO DESCRIPTION:
Two men embrace facing each other. Both are shirtless. One is in leather pants with a newly shaved head. He is pushing the other man's jeans down past his hips.
STORY LETTER:
Dear Author,
Almost a year ago I was helping my brother out when his assistant couldn't make the trip to Chicago for a photo shoot. All I was supposed to do was hand him one thing after another, but somehow I ended up all over the cover of [name]'s album with my ass bare. Totally unexpected!
Just like the connection I had with [name]. We spent a week fucking like bunnies (Best. Sex. Ever!), kissing until our lips were sore, and just trying to forget our time together was limited. At least that's what I did. I think he felt the connection too. I hope he did. Oh, I don't know. I mean, it's been almost a year now. It's sad I'm still pining after him! It's just one guy thousands of miles away. Doesn't really help he's a celeb, though. Magazines, TV, radio… There's no escaping the guy.
We exchanged a few emails and chatted on the phone after I came back home, but I stopped answering him. I didn't see the point. I mean, aside from the fact we live on opposite sides of the country, I'm me, and he's… Well, he's [name].
But no matter how hard I try, I can't forget him.
I'm going back to Chicago in a few weeks, and I think I need to meet him. I need to see if I'm just imagining things or if there's still something between us.
Note: Contemporary, humorous and sexy is always appreciated!
Sincerely,
Armi
STORY INFO:
Genre: contemporary
Tags: family, geek, interracial, mild dominance, reunited, rock star, switch, tattoos
Word Count: 22,220
Acknowledgments
My eternal thanks to Armi for writing such a fabulous story prompt, to Jill, Misha, Liv, Tamsen, Liz, and Shae for the brilliant beta and CP work, and to that final proofreader who noticed Riley's leather pants magically transformed into jeans mid-scene, and then back into leather again by the end. Those were some damn magic pants.
EVENT: Love is an Open Road
Full Exposure on Goodreads (NSFW)
ePub | Mobi | PDF
Review Full Exposure on Goodreads