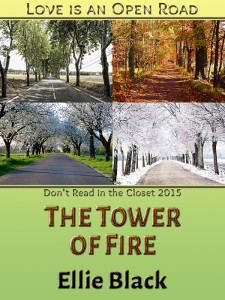 PHOTO DESCRIPTION:
A young, blond man is sitting casually, holding a sword in his hands with a sense of familiarity. Four cats with different colorings surround him, looking protective and threatening. In the distance, the setting sun is half-hidden behind a tower, making it look like the tower is exuding fire and coloring the sky red. The man looks confident and determined.
STORY LETTER:
Dear Teller of Stories,
You think you have problems? All you need to worry about is your inkwell running dry and the popularity of your tales.
The Warrior's Guild wants to oust me for practicing magic. The Wizard's Council complains because I carry a sword and know how to use it. And their newest decree says mages should only have one familiar. Idiots. I need four. And they chose me. Now people keep trying to abduct one or more of my feline friends― unsuccessfully I assure you― and I am tired of cleaning up after the would-be thieves.
Furthermore, one of the princes― yes, the middle one, why do you ask? ―has been imprisoned in the Tower of Fire. I need to rescue him. No, you shouldn't believe the rumors that there is something going on between the two of us. But if anyone is going to kill the egotistical, deceitful, infuriating boor, it's going to be me. And I need him alive to do that. Plus, we might have a little unfinished business…
My familiars and I will think of a fool-proof plan. Well, at least a plan. Have you ever tried to keep magical cats from going someplace they want to go?
Here, take this phoenix feather quill and come back another time, unless you want to help write me out of this dilemma.
Your humble servant,
Jean Reads
P.S. Absolutely no cliffhangers unless you want to be cat bait.
STORY INFO:
Genre: fantasy
Tags: mage, warrior, magical cats, non-explicit, friends to lovers, gay for you, captivity, mythical creatures, royalty
Word Count: 32,259
Acknowledgements
Thank you to Jean, the mastermind behind the story, for an inspiring prompt.
Thank you to my editor, A.L. Boyd, and to my beta readers, Jutta, Allison, and Lynne, for all the notes and encouragements.
Also, a big thank you to everyone who helps make the DRitC events happen and inspire readers to try their hand at writing. You guys are amazing!
EVENT: Love is an Open Road
The Tower of Fire on Goodreads
ePub | Mobi | PDF
Review The Tower of Fire on Goodreads