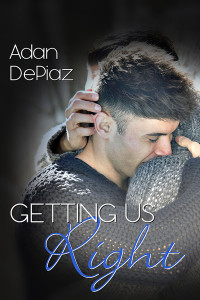 PHOTO DESCRIPTION:
The photo is black and white, two men wrapped around each other in what looks to be a bedroom; one man sitting in the other's lap, his legs wrapped around his lover's back.
STORY LETTER:
Dear Author,
I gave him my heart on a silver platter, and he ruthlessly threw it back in my face. I honestly don't know what he thinks I did that's so bad that he won't have anything to do with me, not even take my phone calls. I promise I didn't do anything!! He gave me everything, spoilt me, and told me I didn't need to worry about anything. Now, left alone, vulnerable, with no job, no money, no food, and nowhere to live, I am only a shell of a man that once was there.
Of course, with time, he figured out that whatever it is he thought I did was false. How do we get to that place in the picture of us being us together again? How could I forgive a man who was so quick and could easily delete me from his life? How do I forget all that I have gone through and begin to trust him again?
Please give these two men the happily ever after they deserve.
Sincerely,
CeeCee
STORY INFO:
Genre: contemporary
Tags: in the closet, advertising exec., homeless, second chances, sex worker
Content Warnings: rape attempt
Word Count: 27,534
Author Note
Thanks to Nikki, Bethany, Sherry, Karrie, Eloreen, Susanna, Maris, and Marc for brainstorming, beta reading, and supporting me on making Getting Us Right the best it could be. Thanks to Cecilia for the prompt. Also, thanks to the Goodreads M/M Romance group for running this event, and the volunteers who give their time so that stories like mine can be read.
EVENT: Love is an Open Road
Getting Us Right on Goodreads
ePub | Mobi | PDF
Review Getting Us Right on Goodreads