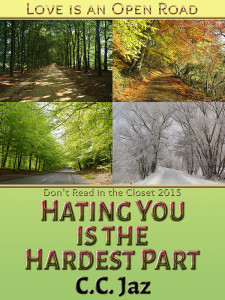 PHOTO DESCRIPTION:
Two men embrace one another, while one leans his head against the other one's shoulder. They're both smiling, looking happy and content.
STORY LETTER:
Dear Author,
This pair had a long road in becoming a couple. From the day they first met as kids they were at each other's throats, either pulling pranks or worse on each other, before coming to blows and starting the process all over again, much to the mixed horror and delight of their friends and the despair of the adults around them. Even after high school/college/adulthood/etc., the pair still did not get along until an authority figure stepped forward to force them to work together. To make matters worse one of the pair is an alpha in waiting and should know better. What are we going to do to get this pair together, safe, sane, and happy?
HEA welcome.
Please, no BDSM, D/s, M/s, etc.
Sincerely,
Lori S.
STORY INFO:
Genre: paranormal
Tags: enemies to lovers, family, farm/horse stable, grief, future alpha, MC with a physical disability, personal growth, shifters
Content Warnings: violence, stalking
Word Count: 66,482
Acknowledgements
First and foremost, to Lori, for sharing your ideas and hopes and helping me along the way. This one is for you.
To Dayton, who pointed out the obvious when I was too dazzled to see it myself.
A massive thank you to Jennifer. Your support has been irreplaceable, and there are no words to tell you how thankful I am.
Last but not least, thank you to the whole team working behind the scenes to give every author a chance to shine. None of this would be possible if it wasn't for the time and dedication you put into this event year after year. Thank you.
EVENT: Love is an Open Road
Hating You is the Hardest Part on Goodreads
ePub | Mobi | PDF
Review Hating You is the Hardest Part on Goodreads