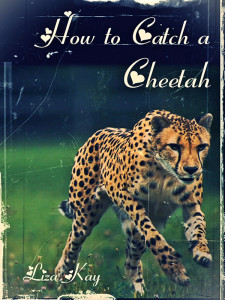 PHOTO DESCRIPTION:
In the picture we see a cheetah in full run, chasing an ostrich through a steppe-like landscape. The ostrich's wings are spread, his feathers ruffled, as he tries to escape the faster, but physically weaker, cat. Above those two, we see the line SHITSHITSHITSHITSHITSHITSHITSHITSHIT.
STORY LETTER:
Dear Author,
The ostrich is a shifter; the cheetah can be as well, if you desire. And this scene should appear in the story at some point. Have fun with it! I want to laugh.
Anything else you want to do with it is fine by me.
Thank you,
―Adara
STORY INFO:
Genre: paranormal
Tags: shifters non-wolf, humorous, interracial, first time, m-preg, artist, blue collar, snarky shifters with big egos and lots of issues, soulmates/bonded
Word Count: 51,375
Acknowledgements
A huge thank you, complete with glitter and confetti, goes to Adara, who posted the hilarious photo and wonderful prompt! As soon as I saw cat and bird, I wanted to write that story. For me, it's been two awesome months full of joy while following my guys on their journey to happiness.
Amanda, you're an awesome beta. A.L. Boyd, thank you so much for editing my story. Big, virtual hugs to you, girls, your comments and corrections helped smooth out the kinks.
Another big thanks goes to the girls and boys visiting the prompt again and again on Teaser Wednesday: Lisa ~ Books Are My Drugs ~, Verity, M'rella (Your photos were great and one even inspired a complete chapter!), L.E., Yrisa, Tully, Jeanne (Thanks for the cute video), Dee, Ashley (Yay, you figured out the names), Chelsea, and all the others I forgot to mention, or who followed without leaving a reply. You made that event an absolutely great experience and I had so much fun with you! The same applies to all the other authors bustling about the author's support thread who were always ready to answer questions and give helping advice.
Oh, and our wonderful Mods, dedicating their time to make DRitC possible in the first place? You rock!
And last, Vera. Calling a friend when you're feeling down, and having that person know that something is wrong even if you don't say anything at all, is priceless.
EVENT: Love is an Open Road
How to Catch a Cheetah on Goodreads
ePub | Mobi | PDF
Review How to Catch a Cheetah on Goodreads