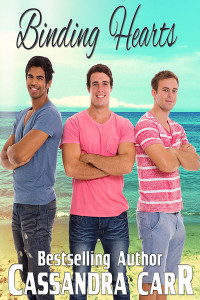 PHOTO DESCRIPTION:
Three young men sitting on a cobblestone street with their arms around each other and melancholy expressions. The man in the middle is kissing the cheek of the man on the right, while the man on the left is resting his chin on his knee.
STORY LETTER:
Dear Author,
All three of us met on a study abroad trip to Spain, and the sparks flew pretty much immediately. To say we were enamored with each other would be an understatement.
Spain is one of the most tolerant countries of homosexuality in the world, as are the other countries we had the opportunity to visit during our stay, including Portugal and France. That's not to say our threesome never got unwanted attention during our trip, but we were empowered by the freedom these countries offered us, and being so far from our "normal lives", afforded us a nonchalant attitude about any strange looks or off-handed comments.
But now, we are back home in the U.S. with our families and friends, and an even less accepting society for unconventional relationships. As our sexual infatuation has developed into real love, we want to stay together. However, we're each struggling with cultural reintegration in our own ways. Please tell me that we can make it work.
Sincerely,
Kelsey
STORY INFO:
Genre: contemporary
Tags: college, poly mmm, switch/versatile, coming out, established relationship, homophobia, new adult
Word Count: 24,847
EVENT: Love is an Open Road
Binding Hearts on Goodreads
ePub | Mobi | PDF
Review Binding Hearts on Goodreads