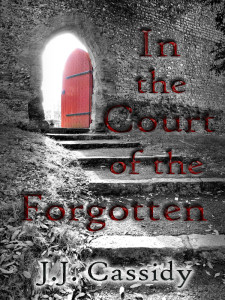 PHOTO DESCRIPTION:
The faces of two pale young men, obviously twins, are visible against a black background. They are Nordic, or perhaps Eastern European. Both of them wear dark blue, almost military-looking shirts or coveralls. Their blond hair is wild, the long hair on top standing almost straight up, revealing short sides. The one on the left looks down, with no expression, while the other stares at the camera, full lips slightly parted, looking unhappy, almost angry.
STORY LETTER:
Dear Author,
For as long as I can remember the buzz of the fluorescent lights has been a constant in our lives. I awaken to silence and it frightens me. With my brother beside me, I know I must close my eyes and re-enter our dream of The Key to tell him of this change. We have a heated conversation. He is angry and doesn't want to leave because we are so close to seeing The Key. Our dreams have ruled us for so long that it is strange to think this might be real. In haste, we awaken and rise to slowly walk towards the door. We know we are not to be a part of society since The Fall, which is why the door has stayed closed. As we approach the door the air locks disengage and it opens. It really opens.
I would welcome twincest, a twin power struggle, alien love, MMM, BDSM and a dark dystopian or fantasy tale.
Thanks for your consideration,
Book Red
STORY INFO:
Genre: fantasy
Tags: twincest, fae, elves, mythical creatures, magic, ménage, M/M/M, open relationship, interspecies, established couple, prison captivity, memory loss, revenge
Content Warnings: graphic violence, mention of off-page rape
Word Count: 28,757
EVENT: Love is an Open Road
In the Court of the Forgotten on Goodreads
ePub | Mobi | PDF
Review In the Court of the Forgotten on Goodreads