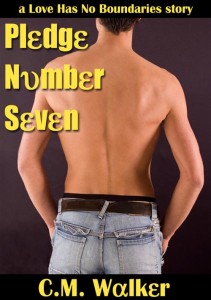 PHOTO DESCRIPTION:
Two dark-haired young men sit on a hardwood floor, viewed through a doorway. The younger, clean-shaven man has his back against the wall, wearing a white undershirt, dark pants, and boots. The other man faces him, bracing himself with his hand between his boyfriend's feet. He wears a dark T-shirt and has the beginnings of a beard growing in. The men's faces are close, suggesting an intimate conversation or a kiss.
STORY LETTER:
Dear Author,
Something new that must be kept a secret. But secrets will out, and who discovers this "forbidden" relationship? (And is it really as "forbidden" as they think? Are they keeping their relationship a secret because of a game, because it's easier, because one person in particular cannot know the truth?)
HEA (or a strong HFN), and a "forbidden affair" at least at the beginning. Bonus points for some dub-con and/or (reluctant?) kissing in public. Can be any level of heat.
Sincerely,
May R.

STORY INFO:
Genre: contemporary
Tags: college, coming out, barely legal, first time, in the closet, fraternity, homophobia
Content warnings: dub-con
Word count: 20,504
Acknowledgements 
Pledge Number Seven would not exist without the support of several special people in my life. Many thanks to my critique partner, Jade, for helping me bounce around ideas and staying patient with me when my ideas bounced back and forth and back again. Words cannot express my appreciation for my friend, Julie, for spending several hours editing Pledge Number Seven and brainstorming plotting issues with me, but most importantly for her cheer-leading and, when I needed it, tough love. And my everlasting love and gratitude to my husband Ken and our children for their support and encouragement, for putting up with me when I was stressed, for understanding, and for believing in me. I couldn't do it without you, and I wouldn't want to try.
Pledge Number Seven on Goodreads

PDF | Mobi | ePub
Review Pledge Number Seven on Goodreads