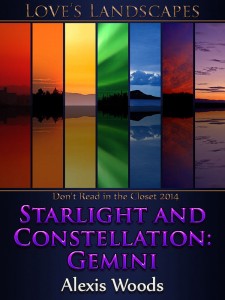 PHOTO DESCRIPTION:
A black and white photograph of identical twin boys lying naked, sprawled on a bed above the sheets. The first boy is lying on his side. The second lies behind him, his head resting on the first boy's chest, one arm encircling him. The first boy has one hand tangled in the second's hair while he holds onto the bed's metal frame headboard with the other. A black night-sky window can be seen behind them.
STORY LETTER:
Dear Author,
He's all I've got. I know him as well as I know myself. I love him and want to be with him but I shouldn't. Not in that way. He's my twin brother, only minutes younger, but ever since our parents died when we were young, we have only had each other and over time he has become my world.
I would love to see a story of how these twins became more and how their relationship developed without them being found out by anyone. They live their lives without anyone knowing their true relationship and enjoy being together without apology.
Thanks,
Simone H.
STORY INFO:
Genre: contemporary
Tags: performance arts, musician, high school, bullying, coming out, young adult characters, first time, coming of age
Content Warnings: incest/twincest, underage sex, light bondage, death of a secondary character
Word Count: 35,329
Acknowledgements
Special thanks to Simone for an amazing prompt and for giving me a "Go For It!" when I asked if I could deviate from it and let a few other characters in on the secret. To Shayla Mist and Wulf Godgluck starring in the roles of Amazing Betas: Your words of encouragement and smiley faces (:P) gave me a lot of confidence to keep going. To PJ, Ava, Gillian, Jacob and Eric for your help along the way. Finally, to my son, Gavin, whom I thoroughly embarrassed a few times when I needed just the right word.
Author's Note
In researching (and living) certain aspects of this story, I strived to keep it as realistic as possible. Music, books and movies listed (and the placement of constellations) were all available during the year(s) in which that part of the written story occurred. (I admit I did take a little liberty with the exact month of releases).
I also chose to include several Jewish traditions: A stone is often used in place of flowers on a gravesite. Although there are many different interpretations, my favorite is that the stone cannot die, symbolizing the permanence of memory and legacy. A Jewish child becomes a young adult when he or she reaches thirteen (seventh grade) and is called to the Torah, a Bar/Bat Mitzvah. Because the story contains twins celebrating on the same day, it is called a B'nai Mitzvah. The young adult who chooses to continue Jewish studies would have a Confirmation ceremony at the end of tenth grade. At that point they would be considered an adult, at age sixteen, within the Jewish Community.
Download Restrictions
Because this story contains explicit scenes between consenting minors, it will not be available for download. Anyone who would like a copy of the story for their own personal files may contact me through my email. Requests listed in the story thread will be deleted and will not be honored.
EVENT: Love's Landscapes
Starlight and Constellation: Gemini on Goodreads (NSFW)
See Download Restrictions above for details.