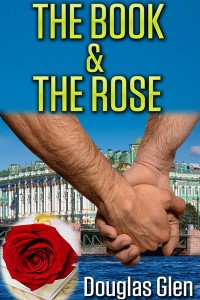 PHOTO DESCRIPTION:
Gif 1: Two men in their early 20s begin kissing at night in a floodlit area with one pinned up against a post or pylon. The man with his back to the surface begins with his hands on his lover's face and ends with his hands cupped around the other's ass pulling him into the kiss.
Gif 2: Continuation of first Gif showing a close up of the kiss. The lovers pull apart briefly and make eye contact.
STORY LETTER:
Dear Author,

See those gifs? That was us, the night it happened. The night it all changed, and our precious time together turned into a trickle of "secret" texts and emails and God-I-wish-you-were-heres…
The memory of that last time together, of feeling his touch, and his strength and heat up against me, has kept me going through some hard times. And I know it hasn't been easy for him either, and we've both done the best we can to be strong. But… I need that man. So much.
I'm trying to figure out how to make things right so we can be together again. I think I've finally worked out just what needs to be done; it isn't going to be easy and could possibly be dangerous and pull me farther away from him. That's all right though; I know the best things in life are worth making it over and around every obstacle on the way there. Worth taking risks and giving it all you've got. And that man? There's no doubt in my heart that he's the best thing in my life.
Sincerely,

Rissa~(an M/M kinda girl)
P.S. Thanks to Kaje for helping me with the prompt!
Restrictions:
*Historical, Sci-Fi/Fantasy, Steampunk & Paranormal
*Little to No Sexual Activity
Please Include
*Dry Humping or Frottage Scene (I would prefer this scene to happen either "the night it all happened" or even before then and maybe shown thru a flashback but it can be negotiated)
*Angsty
*HEA or Strong HFN
Major Bonus Points if you include any or all of the following!
I'd prefer not to have a "no sex" story so getting sexin' stuff to happen in other ways with them apart may prove challenging
*Self-Pleasuring Scene with some anal play
*Sexting/Phone Sex
* Gruff, Gritty & Raw (So the loving/tender moments are more 'AWWW')
*A Surprise Ending could be fun!
STORY INFO:
Genre: contemporary
Tags: masturbation, businessmen/lawyers, grief, homophobia, in the closet, men with children, reunited
Content Warnings: graphic violence
Word Count: 13,785
EVENT: Love's Landscapes
The Book & the Rose on Goodreads
ePub | Mobi | PDF
Review The Book & the Rose on Goodreads