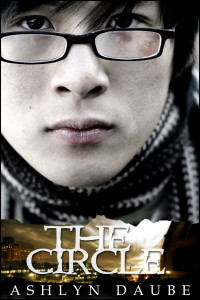 PHOTO DESCRIPTION:
Two teenagers share a hidden kiss inside a photo booth, away from prying eyes.
STORY LETTER: 
Dear Author,
These two boys' story needs to be told. They are sneaking away to see each other and using one of those quarter photo machines to capture a few stolen moments together.
My only request is that it fit normal YA guidelines― all else I leave up to you.
Sincerely,
Lissa
STORY INFO:
Genre: young adult
Tags: sci-fi/futuristic, postapoc/dystopian, bittersweet no sex
Content warnings: No HEA or HFN
Word count: 13,841
Acknowledgements
A million thanks to Jessa for helping shape this story. She sees my first round of mistakes and still sticks around. To Averin for her second look to make it even better, and to everyone involved in this event for making my dream come true of writing stories from my crazy head and having people actually read them.
The Circle on Goodreads

PDF | Mobi | ePub
Review The Circle on Goodreads