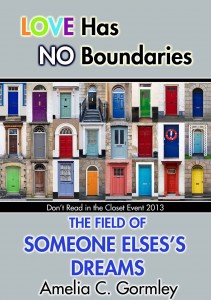 PHOTO DESCRIPTION:
Two naked young men in a window seat, cuddling. One is leaning back against, and looking up at, the other. The other has his arms wrapped around the one in front.
STORY LETTER:
Dear Author,
Matt has always been out and proud and from a very understanding and accepting family. He's never openly flaunted being gay but he's never hidden it, either. Chris has hidden the fact that he's gay since he figured it out and has no intention of ever telling anyone. His family is very closed-minded and narrowly focused on him getting an athletic scholarship to college, like his dad. 
Both boys end up at the same college together. Chris on an athletic scholarship for baseball, hoping to make it to the major leagues, and Matt on an academic scholarship, not quite sure what he wants to do with his life, yet. When they meet they both begin to question everything they've ever thought they knew about themselves. Can Matt be in the closet for Chris? Can Chris come out for Matt? Can they make a relationship work with so many differences between them? 
HEA please with no cheating, some angst, and this awesome cuddle scene maybe used as a heart to heart!
Sincerely,
Shantel

STORY INFO:
Genre: contemporary
Tags: homophobia, coming out, twinks, hurt/comfort
Word count: 13,360
The Field of Someone Else's Dreams on Goodreads (NSFW)

PDF | Mobi | ePub
Review The Field of Someone Else's Dreams on Goodreads