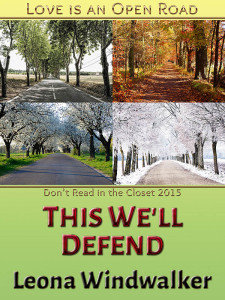 PHOTO DESCRIPTION:
Two young soldiers squeeze onto a small single bed. An open wardrobe to the right gives a glimpse of where at least one of the BDU shirts has been discarded. To the left, the open door of a second wardrobe helps provide them with a modicum of privacy. They are sound asleep, still otherwise fully dressed.
STORY LETTER:
Dear Author,
We met in basic training; serving our country with pride our common bond. Friends first, lovers eventually, we've weathered thick and thin, deployment and separation, DADT and its repeal. Not always surefooted in expressing our relationship openly, but here we are, still together on active duty, stronger and more confident than ever.
Preferably no fantasy, sci-fi.
Sincerely,
Dawn
STORY INFO:
Genre: contemporary
Tags: Don't Ask Don't Tell, first time, in the closet, long-term relationship, memories, military, switch/versatile, wedding
Word Count: 4,277
EVENT: Love is an Open Road
This We'll Defend on Goodreads
ePub | Mobi | PDF
Review This We'll Defend on Goodreads