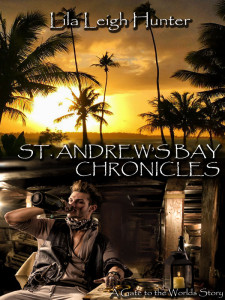 PHOTO DESCRIPTION:
A vintage portrait of a pirate at a beach with the water in the background. The pirate seems to be in his early thirties, with long hair held back, and a muscular physique. With one hand he's holding his pistol which is in his chest baldric, and in the other hand he's holding a bloody cutlass.
STORY LETTER:
Dear Author,
I wasn't always a pirate. I was once the son of a nobleman, born to a life of privilege, if not of love. As a boy, I spent my summers on my grandfather's estate by the sea, away from the notice of my disinterested parents. I spent the days with a boy from the village, my best friend, my only friend. It was he that taught me to love life and to seek adventure. As we grew older, he taught to me to love in other ways as well. My father died the summer I turned 18 and it was 4 years before I could return to my grandfather's estate, now my estate as well. I looked for my friend, but no one had seen him in years. Lost to the sea was what they thought. The years went by and the void in my life could not be filled. I lost my will to love life as he had taught me. I moved to my estate by the sea, roamed the beach and mourned for my lost love. Until the day he returned.
"Come with me now. A life of adventure awaits."
Please tell me their story.
Sincerely,
Susan A
P.S. I'd prefer no BDSM. Thank you.
STORY INFO:
Genre: 19th-Century alternate history, magical realism
Tags: merchants, pirates, reunion, amnesia, West Indies
Word Count: 25,901
Acknowledgements
A special thank you to Samantha for taking the time to beta read this story. Your patience and professionalism were greatly appreciated. All your hard work made Andrew & Franco's adventures shine.
EVENT: Love is an Open Road
St. Andrew's Bay Chronicles on Goodreads
ePub | Mobi | PDF
Review St. Andrew's Bay Chronicles on Goodreads