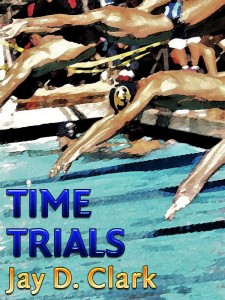 PHOTO DESCRIPTION:
Nick Vogel presses his teammate, Luke Nevin, against a chain-link fence, both bare-chested and embracing, foreheads touching. Nick has his hand on Luke's chin and lip, a tribal tattoo on his wrist. Luke has his left hand on Nick's bicep. This last summer together turns best friends into lovers, out and proud to stay together. Nick assures Luke that he, too, will pass his time trials so that they can swim together in college.
STORY LETTER: 
Dear Author,

Look at these two men, caught in a moment of intense conversation. Are they on the same baseball team? Are they out or in the closet? How long have they been together? And what is the one on the left telling the one on the right, the one he's got pressed against the fence? Is this a lover's spat or is he telling him that everything will be okay? The intense look in his eyes took my breath away. The young man on the right seems to be listening carefully to his boyfriend, but might need a bit more convincing, don't you think? And what's the significance of the band tattoo? What meaning does it hold for them?
I would like a sweet and sexy romance with two ballplayers, if possible, and a story arc that includes the moment captured in this image.

Sincerely,

Sandra
STORY INFO:
Genre: contemporary
Tags: athletes, sports (swimming), friends to lovers, coming of age, first time, coming out, religion, special needs (high-functioning autism), tattoos, young adult characters, family, very distant cousins
Word Count: 28,319
Acknowledgements
Top of the list of people to thank would be Sandra for first posting the photo and "Dear Author" letter that inspired this short story. Without Sue M. and Raevyn McCann encouraging me to take on the prompt, I never would have gone for it. Kaje Harper, however, has been an effective and demanding taskmaster as my beta reader, challenging me to do my best to let the characters reveal themselves in the most believable, true-to-life manner possible for the setting and story. Adara O'Hare also helped this story become hotter, sweeter and more reader-friendly with her skills and encouragement as my editor. I would never even know about the joyous world of M/M Romance without the gentle guidance of my cousin Ben, who is himself an inspiration. The opportunities to edit and/or beta-read for others also helped me to be a more disciplined writer myself, although that journey is far from over and really has just begun. Some of the story is vaguely autobiographical and some of it simply reflects on where I am in my own journey to enlightenment, the world we all share becoming my best muse. Thank you in advance to those who read and find some small pleasure in the reading of this story.
EVENT: Love's Landscapes
Time Trials on Goodreads
ePub | Mobi | PDF
Review Time Trials on Goodreads