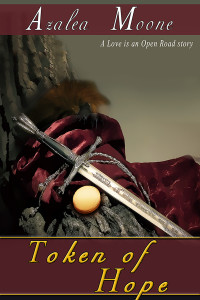 PHOTO DESCRIPTION:
A mage with green eyes and long, black hair is sitting on a throne. A black cat sits atop a nearby pedestal pawing at a green ball of magic, which is floating above the mage's palm.
STORY LETTER:
Dear Author,
Just look at all that arrogance. Bastard isn't so cocky now that I've got him in my dungeon. He and his damn cat have been a thorn in my side ever since I took over this kingdom.
I would love a fun, high fantasy, enemies to lovers story. Please no dub-con or non-con.
Sincerely,
Breann
STORY INFO:
Genre: fantasy
Tags: mages, knights, enemies to lovers, slow burn/UST, non-explicit, captivity
Content Warnings: graphic violence
Word Count: 23,619
EVENT: Love is an Open Road
Token of Hope on Goodreads
ePub | Mobi | PDF
Review Token of Hope on Goodreads