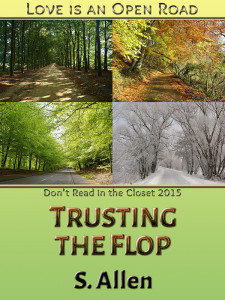 PHOTO DESCRIPTION:
A man is in midair, back bending over a high jump bar. He is wearing a prosthesis on his left leg just below the knee.
STORY LETTER:
Dear Author,
I'm in love with a strong willed man. He is a High Jump Athlete. I hope my love inspires him to fly higher. Btw, I'm a Sports Medicine Physician.
Please, let our love story to be contemporary with fluff, some angst, humour (if it fits), HEA, age gap (not necessary). Please, no BDSM, no cheating, no public sex.
Thank you!
Sincerely,
Yrisa
STORY INFO:
Genre: contemporary
Tags: athlete, hurt/comfort, disabilities, grief, death of a secondary character, love at first sight, slow burn/UST, non-explicit
Word Count: 12,946
Acknowledgement
Special thanks to Yrisa for a great prompt and amazing support!
EVENT: Love is an Open Road
Trusting the Flop on Goodreads
ePub | Mobi | PDF
Review Trusting the Flop on Goodreads