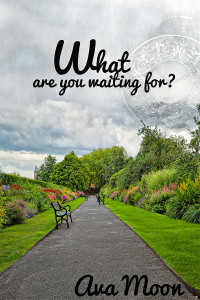 PHOTO DESCRIPTION:
Sitting down and leaning forward, with his arms resting on his legs, a man has his fingers entwined. His veins are bulging out on his arm and hand that are facing the camera, traveling up his tanned skin. On each inner forearm is a tattoo, some sort of cross with wings. He is wearing a common, large-faced, navy-blue watch on his left wrist. Only his midsection is captured on film.
STORY LETTER:
Dear Author,
The first thing I noticed about him were his beautiful, veiny forearms and hands (a particular fetish of mine). I couldn't tear my gaze away and was afraid he would catch me staring at him. I certainly didn't want to come across as an old creep. Of course, as my luck would have it, he turned and looked at me with curiosity, so I panicked and blurted out, "That's a nice watch!" He didn't reply and I could feel the heat rise to my cheeks. It was unnerving, to say the least. As I gathered my things and stood to leave, I heard him ask with a hint of humor in his voice, "Have we met before?"
Thank you!
Sincerely,
Natālija
STORY INFO:
Genre: contemporary
Tags: men with pets, age gap, blushing, out and proud, blue collar, inheritance, gardening
Word Count: 50,496
Acknowledgements
I'd like to thank Natālija for the wonderful prompt and Donna for being a fantastic beta reader. Also, thanks to Shayla Mist for doing my cover. I really appreciated all the time and effort she put into helping me. And a special thanks to everyone who volunteered their time to make this event possible.
EVENT: Love is an Open Road
What Are You Waiting For? on Goodreads
ePub | Mobi | PDF
Review What Are You Waiting For? on Goodreads