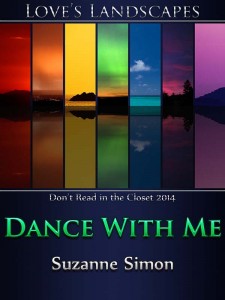 PHOTO DESCRIPTION:
Two dark-haired, slimly built men are dancing close to each other in the middle of a black-and-white, checkered dance floor. They are wearing dark dress pants with suspenders, white dress shirts, and both are barefoot.
STORY LETTER:
Dear Author,
It all started with a brochure from a local dance studio left in my mailbox… Please give us a happy ending, and you won't go wrong!
Note: I'd like a story that revolves around Argentine tango. Bonus points for featuring men of short stature.
Sincerely,
Natālija
STORY INFO:
Genre: contemporary
Tags: sweet/no sex, friends to lovers, secret admirer, dancing, teachers
Word Count: 2,338
EVENT: Love's Landscapes
Dance with Me on Goodreads
ePub | Mobi | PDF
Review Dance with Me on Goodreads