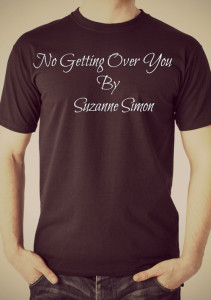 PHOTO DESCRIPTION:
Blaine and Kurt, characters from the television show Glee, are kissing each other.
STORY LETTER:
Dear Author,
My name is Tucker. See these two, they are Kurt and Blaine from Glee and I am a total Gleek. Their love is so perfect except it isn't real. It's just a TV show.
My best friend says I should stop obsessing over fictional characters. That maybe if I opened my eyes and looked around I would discover a love of my own. 
But what does he know? He's hot and has tons of girls chasing him. He's totally straight. 
Or is he?
HEA please.
Sincerely,
Kathryn

STORY INFO:
Genre: contemporary
Tags: friends to lovers, tattoo, college, Glee, oral sex, HEA
Word count: 7,283
No Getting Over You on Goodreads

PDF | Mobi | ePub
Review No Getting Over You on Goodreads