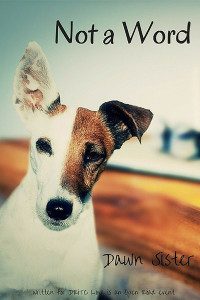 PHOTO DESCRIPTION:
A black-and-white photo shows a young man, possibly in his late teens/early twenties, lying asleep on a sofa. The hood of his plaid, cotton jacket is pulled over his head. His face is peaceful, his hair a little messy and swept across his forehead. Lying at his side, leaning into him and half across his chest, is a white and tan Jack Russell terrier, sporting a nice new collar. The terrier's ears are alert, and he looks as if he is on guard duty. Do not disturb my master, his expression seems to say. The young man's arm is draped around the dog's back, holding him close.
STORY LETTER:
Dear Author,
Don't let this sweet, peaceful repose fool you. From the day he moved in next door, he has been a whirlwind in my formerly tranquil life. My dog adores my new neighbor and keeps going over to his place.
People often complain that I am hard to get to know because I am uncommunicative. He doesn't seem to mind that I don't talk much. In fact, he does most of the talking when we are together.
My dog has defected, and now I have this young man asleep on my couch.
Tell me how it came to this point.
I love age-gap HEA romances. I leave the rest to you! Kinky or sweet, serious or humorous, it is all up to you!
Sincerely,
Pamela Su
STORY INFO:
Genre: contemporary
Tags: age gap, man with pet dog, slow burn, cute dog, sweet/no sex, very cute dog, speech impediment, British, hurt/comfort
Word Count: 41,322
Acknowledgements
I just want to thank Suki, who beta'd for me again. Debbie, who edited and my hubby who once again helped me design the cover for this story.
Pamela Su, thank you for the awesome prompt. I loved it from the very beginning.
EVENT: Love is an Open Road
Not a Word on Goodreads
ePub | Mobi | PDF
Review Not a Word on Goodreads