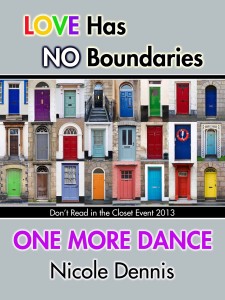 PHOTO DESCRIPTION:
Blond haired man in a full side split, gazing off to the left.
STORY LETTER:
Dear Author,
Dancing used to be this guy's only purpose in life and he wanted to keep it that way. So how does a certain someone make him crave more?
I'd prefer a longish story without D/s!
Sincerely,
Anni__
STORY INFO:
Genre: contemporary
Tags: former military, hurt/comfort, men with pets, performing arts, reestablished lovers, PTSD
Word count: 11,673
Dedication
With my love and thanks to Anni___ for the wonderful prompt and picture. Also to Jaymi and Nancy for the hard part of editing my rather late entry. Thanks to the wonderful crew at the M/M Romance Group for putting together these wonderful events. Hugs!
One More Dance on Goodreads

PDF | Mobi | ePub
Review One More Dance on Goodreads