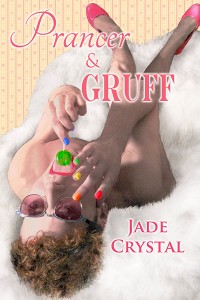 PHOTO DESCRIPTION:
A cowboy stands alone in a grassy field, a saddle dangling from his grip by the saddle horn. He stands comfortably, feet apart and shoulders wide. He is looking down, his dark hat obscuring his face and throwing shadows over one shoulder. He is bare-chested, sporting an impressive upper body physique; he is wearing only belted jeans and boots. A river, some brush, and a wooden fence can be seen in the distance.
STORY LETTER:
Dear Author,

Being a cowboy is the only life I've ever known and I wouldn't change that for anything. Running the ranch keeps me too busy to be lonely but at night, when I'm lying in bed waiting for exhaustion to take me, I can admit I wish there was someone there beside me. Then you pranced into my life in response to a housekeeper wanted ad I posted online. You are nothing I expected and everything I need. My opposite in every way, your softness to my strength, your sass to my gruff, and yet we just fit. I'm stubborn and set in my ways, but I know I can be your happy ever after if you give me a chance. How do I convince you to be mine?

Sincerely,

Laura
STORY INFO:
Genre: contemporary
Tags: cowboys, housekeepers, kiss, sweet/no sex, boss/employee, ranch, pretty men
Word Count: 25,641
Acknowledgements
I would like to thank my prompt writer Laura for giving me such a wonderful idea and for bringing Troy and Cliff to life for me. They are already sharing more of their stories with me. They are a part of me now, and I wouldn't have it any other way.

A huge thank you to Dan Skinner and his model for the cover photograph and to Adrienne Wilder for turning that already awesome photo into the gorgeous cover for this book. It makes me feel giddy every time I look at it.

And many thanks also go to my beta readers for letting me bounce ideas off them and catching my mistakes: Tony, Mary, Pet, Jenni, Réalta, and Pamela. You guys rock.
EVENT: Love's Landscapes
Prancer and Gruff on Goodreads
ePub | Mobi | PDF
Review Prancer and Gruff on Goodreads