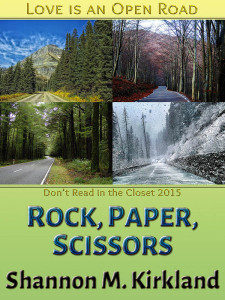 PHOTO DESCRIPTION:
A man is leaning forward, holding a child piggyback-style. He is kissing another man who is leaning out of a sliding glass doorway, bracing his hands on the frame. The child's eyes are looking over the man's shoulder, observing the exchange, with a smile that looks to be the beginning of a giggle.
STORY LETTER:
Dear Author,
My mother left when I was a few days old, it was only daddy and me for years. Then he met and fell in love with Jim*. It wasn't easy; there weren't many families like ours back then. All of the hardships were worth it though, because today is the day I'm officiating the marriage of the two men I called my dads.

I want you to write their story; whether it be contemporary and/or historical, or whether it revolves around on the child(ren) and/or the couple.
Sincerely,
MC Houle
STORY INFO:
Genre: contemporary
Tags: men with children, family, businessmen, coming out, sweet, non-explicit sex
Word Count: 13,662
EVENT: Love is an Open Road
Rock, Paper, Scissors on Goodreads
ePub | Mobi | PDF
Review Rock, Paper, Scissors on Goodreads