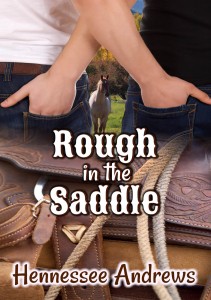 PHOTO DESCRIPTION:
Two men in ball hats, plaid shirts, jeans, and boots sprawl in their seats in a rodeo grandstand. Their heads rest together and their shoulders touch, and the man on the right has his hand around the other man's thigh. They are clearly friends, probably lovers. At the rail in front of and below them, three cowboys watch the action in the arena.
STORY LETTER:
Dear Author,
These two guys were childhood friends. They tried to hide their relationship in the rodeo but they got caught, so they ran away. That is when they found the gay rodeo. HEA please, and not too much angst.
Sincerely,
Ang
STORY INFO:
Genre: western
Tags: cowboys, coming out, friends to lovers, masturbation, gay rodeo
Word count: 23,191
Acknowledgements
Thanks to editors Nancy Canu and Cheryl Nitely, and to Siobhan Muir and Melody Feierabend for all your help and work on this project.
Rough in the Saddle on Goodreads

PDF | Mobi | ePub
Review Rough in the Saddle on Goodreads