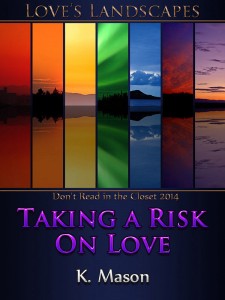 PHOTO DESCRIPTION:
Two men, dressed in frock coats, with waistcoats underneath and lace cravats around their necks, stand facing each other. Both men have long dark hair, tied at the nape of the neck. The man on the right, whose face is clearly shown and who looks slightly younger than the other man, appears unhappy, as though he's explaining something to the man on the right. Behind them on the wall is a large, ornate, gilt edged painting, under which is a candlestick with three lit candles.
STORY LETTER:
Dear Author,
I would love to read a story set in a historical, or at least close to historical, setting in 18th century France, full of court intrigue, backstabbing and duels. I'd like them to be fashion-conscious for the times, but not too effeminate in personality.
Enemies to lovers?
Maybe one of them is an artisan baker, or party planner for the court?
Or an assassin sent to the court from another country?
Please no:
Military/Navy/Soldiers
No BDSM
Crossdressing as part of sex
Over the top angst
Please include:
HEA or HFN
explicit sexual content
Historically appropriate attitudes to sex
Thanks, <3
Sincerely,
Kat Merikan
STORY INFO:
Genre: historical
Tags: student/tutor, France, duel, masquerade, inappropriate use of a chaise longue, outdoor groping, completely improper behaviour, wig abandonment
Word Count: 16,009
Acknowledgements
Firstly, thank you to K.A. for creating the prompt and giving me something new to think about and research.
A huge thank you to all of the organisers and volunteers of the Love's Landscapes Event for all the hard work you do.
As ever, thank you to my very wonderful beta readers and cheerleaders for their support when I was writing, particularly to Kaje, Kat and Elci for keeping me off the ledge when I started to believe I'd bitten off more than I could chew with this one.
And finally, to my research assistants, Master Alex and his subs, Lucas and Kat, for bravely acting out the smutty bits and taking notes, so that I was sure that they did actually work.
Author's note
This is a new historical period for me to write about, and I have to admit the research was a bit of a crash course. The story was written in six weeks and as such there are going to be mistakes; these are mine alone and I hope that they don't detract the reader from the story.
EVENT: Love's Landscapes
Taking a Risk on Love on Goodreads
ePub | Mobi | PDF
Review Taking a Risk on Love on Goodreads