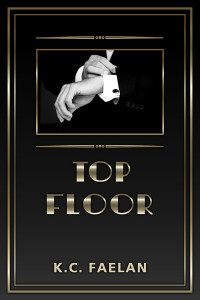 PHOTO DESCRIPTION:
Two pieces of art, the first is of a smiling, redheaded Room Service Boy wearing a bright-red uniform and cap. He is reading a card and has pulled his penis out of his trousers laying it on a plate on his service cart. The second picture is of a handsome, and shirtless, dark-haired man looking off in the distance. Roses frame the man's image.
STORY LETTER:
Dear Author,
My name is Shane, I was born in Ireland. When I just turned sixteen, back in 1919, influenza killed my whole family. Our village Priest was a great help at the time and he assured me that his cousin, who lives in New-York, would take care of me and he did just that. He was able to find me a good job in a grand Hotel. I began as a Bellboy helping with the luggage and the deliveries. Now that I'm eighteen, I'm a Room-Service boy, and I love my red and shiny uniform so much!
I found out some men want a little 'more', and at first, I always said no, but now… now I've done it a few times. I don't take money. I'm not a whore. But there are men I feel like I want to please. I would die to please Mr. Beaumont! I didn't know that a man could be so 'beautiful'! I dream about him every night… He usually asks for Room-Service three times a day, drinks a lot, doesn't eat much and is always alone. He has never asked for 'more'; does he even see me…?!
This morning I was summoned to see the Assistant-Manager… he knows!!! Either I steal from certain clients or he tells my 'dirty little secret'. "Jesus, Marie and Joseph! What am I gonna do?"
Help me please!
(No paranormal, no fantasy, sci-fi – BDSM is okay only if it's light. You can change the names if you want. Many thanks).
Thank you,
Misty
STORY INFO:
Genre: historical
Tags: Roaring Twenties, first time, age gap, slow burn/UST, hurt/comfort, grief, social class differences, public activity, frottage, rimming
Content Warnings: minor character suicide before story takes place
Word Count: 77,981
Acknowledgements
I first want to thank Misty for the attention-getting prompt; it captured my imagination immediately.
Originally I figured Top Floor would take about thirty-five thousand words to tell its story, but no, Harrison and Sean had other ideas. They dragged a good seventy-six thousand plus words out of me, making their story, the first novel I've ever written. Misty, I hope you end up loving Harrison and Sean as much as I do.
Next, I want to give a tremendous thank you to the wonderful people who helped whip Top Floorinto shape. First and foremost, Alexis Woods, beta and brainstormer extraordinaire. Alexis scoured over my writing and bounced ideas around with me when I moaned that the guys had stopped talking. With her help I was able to get through the rough patches and create what I hope, is an entertaining read. Thank you, Alexis. I don't know what I would've done without you! Next, thank you to Debbie McGowan, for your great beta and editing skills, and for helping me keep Sean, Irish. To the awesomeness that is Jonathan Penn― but he already knows that― who helped tighten and clarify the story and writes the best notes ever. I learned a lot from his reasoning and explanations. Now if I could just remember it all. I'd also like to thank Shayla Mist, Susanna, and Gillian St. Kevern for giving some of their time to look over parts of the story, and Layla for helping with the French translations.
Last, but not least, I want to thank the MM Romance group, the DRitC mods, editors, proofreaders, formatters, and all those people who worked tirelessly behind the scenes to make this huge, amazing event happen. Thank you!
Author's Notes on Historical Accuracy
Historically accurate to an extent, Top Floor also hints of the future. The story is set in the year 1922, a situation which created some factual dilemmas. Many of the period dances we're familiar with today, such as the Charleston, hadn't been introduced but were evolving. An early version of the Charleston was first seen by New Yorkers in the Ziegfeld Follies of 1922. But it wasn't until the fall of 1923 that it took the city by storm, when the dance as we know it appeared in the Broadway musical, "Runnin' Wild." In 1922, the Foxtrot was still all the rage. Likewise, jazz hadn't reached its heyday, but was slowly gaining popularity. The jazz we're familiar with came about in the mid- to late-twenties. In Top Floor, the music played at the Dionysus Club constitutes a blending of fact and fiction. The Foxtrot is true to its time, but the sultry jazz is from an era yet to come.
The history of fashion apparel also presented challenges. For instance, the Jimshirt― better known to us today as a "tank top" ―didn't become a fad until much later and in 1922 was worn only when exercising. Also, while boxer shorts were available, they were a new item and had yet to gain traction as a standard undergarment. Harrison Devaux is intelligent, and he thinks outside the box. He's something of a Renaissance man. His willingness to experiment with new things, and his innovative approach to haberdashery― wearing clothes in a manner not accepted by his peers― demonstrate one of the more alluring facets of his complex personality. It is this nonconformist attitude that he passes on to Sean O'Reilly.
Additional Notes
Various pieces of music are listed throughout this book that indicate Harrison Devaux's mood or are part of a situation's atmosphere. The list of those specific pieces can be found at the end of the story.
EVENT: Love is an Open Road
Top Floor on Goodreads (NSFW)
Epub | Mobi | PDF
Review Top Floor on Goodreads