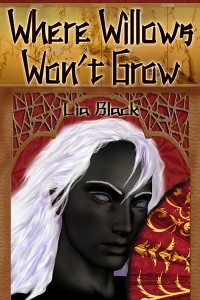 PHOTO DESCRIPTION:
A black and white image of a bearded man, naked, bound and blindfolded.
STORY LETTER:
Dear Author,

Here I am. Tied, blindfolded and ready to be put up for auction, as if I were a precious painting, an ancient statue or a fine piece of antique furniture.
After six months of undercover investigations I am finally a step away from identifying who's behind a ruthless organization of male prostitution. To what extent will I have to push myself to do my duty? But most of all, why is a part of me so excited about what is going to happen?

Sincerely,

Giulio
STORY INFO:
Genre: science fiction, futuristic
Tags: dark, undercover cop, prostitution ring, interspecies, hurt/comfort, tentacles (yes, tentacles), abduction, drug references
Content Warnings: graphic violence, rape, dubious consent, references to child sexual abuse, character death (secondary), extreme taboo: gruesome alien sex, sounding, sadism
Word Count: 44,943
Dedication
To Giulio, for letting me go a little nuts with his very cool prompt.
Acknowledgements
Thanks to Jaye McKenna and Steve Madill for beta-reading. Thanks to Elizabetta, Samantha, and all of the Love's Landscapes volunteers for, once again, putting together and pulling off this wonderful event!
EVENT: Love's Landscapes
Where Willows Won't Grow on Goodreads (NSFW)
ePub | Mobi | PDF
Review Where Willows Won't Grow on Goodreads