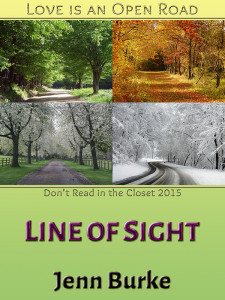 PHOTO DESCRIPTION:
A shirtless man stands in hip-deep water, staring up at a sky colored orange and yellow by the setting sun.
STORY LETTER:
Dear Author,
Is anyone coming? I've been waiting for so long…
Take it from there. I like plenty of atmosphere. And please no BDSM, though angst and personal trauma are always appreciated. Other than that, you're on your own.
Sincerely,
Plainbrownwrapper
STORY INFO:
Genre: science fiction
Tags: action/adventure, aliens, law enforcement, psychic ability, grief, stranded on Earth
Word Count: 16,357
EVENT: Love is an Open Road
Line of Sight on Goodreads
ePub | Mobi | PDF
Review Line of Sight on Goodreads