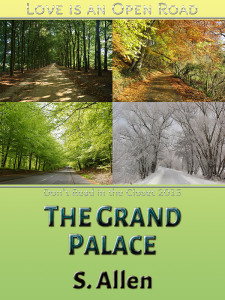 PHOTO DESCRIPTION:
The first picture is a headshot of a young man wearing eye makeup and a lip ring. His hair falls to his shoulders. His bangs are platinum blond and swoop to his cheekbones, and the rest of his hair is a dark brown. The second picture is a man from thighs up. He's wearing low-cut jeans and a shrug that exposes his extremely muscular chest and abs.
STORY LETTER:
Dear Author,
MC 1 has just arrived at his second job as a waiter after a long day at his main job (your pick, maybe customer service, help desk). MC2 is a customer entertaining a client, brother-in-law, someone he needs goodwill but no romantic interest.
Your task is to get them past passing waiter and anxious customer to lovers, HEA is great, HFN acceptable.
I like funny stories, sex is appreciated, NO tentacles or non-con!
Sincerely,
Averin
STORY INFO:
Genre: contemporary
Tags: businessman, humorous, one night, piercings, reunited, server
Word Count: 7,979
EVENT: Love is an Open Road
The Grand Palace on Goodreads
ePub | Mobi | PDF
Review The Grand Palace on Goodreads