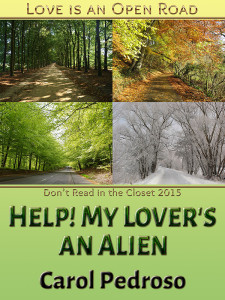 PHOTO DESCRIPTION:
Head and shoulders shot in color. The male is wearing a black hood and what looks like a cloak. Only part of his face is visible as there is a partial mask on the hood but it shows a pale face with high cheekbones. The best features are his startling blue eyes that draw you in.
STORY LETTER:
Dear Author,
I am part of an elite unit. I am from a world which, up until [?] years ago, was unknown to you and your kind. I have been sent to your world on a twofold mission. First, to ascertain if Earth will make a good ally, and second (and more personal), is to search for my other half. I have felt the pull and have started showing the signs. This makes me dangerous to myself and vulnerable to my enemies. I need to find him or them ASAP.
No hard BDSM, non-con, or slavery please.
Sincerely,
Yvonne
STORY INFO:
Genre: science fiction
Tags: magic users, military men, aliens, m-preg, homophobia, mixed martial arts, trainer
Content Warnings: some violence
Word Count: 34,005
Acknowledgements
Firstly, I would like to thank Yvonne for her wonderful prompt; without that, I wouldn't have had a story to tell.
Next I want to thank Christine for her wonderful beta reading. She always manages to find the holes in my stories and doesn't even rub my nose in my sometimes glaringly obvious mistakes.
I would also like to thank Alishea for her editing and the rest of the DRitC team for all their hard work.
Lastly I would like to thank my family and friends for all their support and love.
EVENT: Love is an Open Road
Help! My Lover's an Alien on Goodreads
ePub | Mobi | PDF
Review Help! My Lover's an Alien on Goodreads