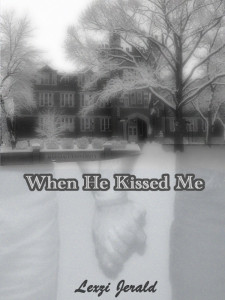 PHOTO DESCRIPTION:
Two college-aged guys, visible from the shoulders up, facing each other with their eyes closed… kissing. Leaning in, the clean-shaven one on the left appears to be the instigator of the kiss. He is smaller, with almost "pretty" features and wears a gray T-shirt; his dark-brown hair curls up around a gray beanie. He cradles the back of the other guy's head in his hand. With slightly longer reddish-brown hair, scruff along his jaw, and a gauge and hoop in his left ear the one on the right is wearing a navy-and-white striped T-shirt and he appears to be enjoying the kiss.
STORY LETTER:
Dear Author,
I had a girlfriend in high school. She wanted to take it to the next level after we graduated, but I really wasn't ready for that step, and so we split up. I spent the summer working and nothing much else. I started classes at the university a few weeks ago, and things started getting interesting. I was sitting in Freshman Orientation, and a guy walked in and sat down next to me. We started talking and kind of hit it off. We exchanged numbers before leaving that day, and made plans to meet up once classes started. Well, we've been hanging out a lot and having a good time the last few weeks, and now I find myself fantasizing about making out with him! What is that all about? I'm not gay, at least, I don't think so, but I can't deny I'm attracted to him. He's said things that make me think he might be gay, and that's really fueled my fantasies. They could be hints, or maybe I'm reading too much into it. We've had a few "moments" but today it happened; he kissed me! OMG, I kissed a boy and I liked it!
Please give these guys a story. I'd love a Contemporary setting with no paranormal, shifters or vampires please. It can be funny, sweet, have a little angst or better yet, of all of those things. Sexy times are a HUGE plus but a HFN/HEA is a must. Thank you!
Sincerely,
Justin
STORY INFO:
Genre: contemporary
Tags: college, friends to lovers, slow burn, gay for you, homophobia, non-explicit OR sex off page, virgin
Word Count: 41,388
Acknowledgements
Where to start… Justin, your prompt photo and inspiring words grabbed my heart and screamed for me to try, and so I did! As a first time fiction writer, this has been quite the roller coaster ride, but I can truthfully say that I am glad I tried. I hope that I have managed, with the help of some outstanding friends, to create something that will be entertaining!
Now, to the wonderful support system I had throughout this process:
My beta readers, Armi and Amanda… you two kept me on track when my mind would veer off in twenty different directions, and you threw hard truths at me when I needed them the most. For these momentous accomplishments, I thank you both.
My heartfelt thanks go to Vicki, love her heart. As she edited my story, she put up with my many, many changes to the final draft… and still, we both somehow managed to live to tell about it!!!
And as we all know, this story along with all of the wonderful stories we will be privileged to read this year would not be possible without the DRitC Team. You guys are just amazing! And I thank you from the bottom of my heart for this opportunity to give writing a try. So, thank you, one and all for the long hours, the repeated thunks of heads hitting desks, and for your patience. I stand in awe of your patience.
And last, but by no means least… Ali! You are my rock. Through thick and thin, you were there for me. I cannot put into words what your friendship means to me. Just know that I couldn't have done this without you. Thank you for being my friend!
As I finish this VERY long thank you note, let me say that even with all of this fantastic help, I made mistakes! Some I chose to make; others were just the product of my inexperience or lack of ability. But they were all mine, and if you find them, know that they were my doing, usually against the knowledgeable advice of others… because I can just be stubborn that way!!!
EVENT: Love is an Open Road
When He Kissed Me on Goodreads
ePub | Mobi | PDF
Review When He Kissed Me on Goodreads