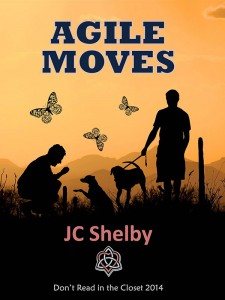 PHOTO DESCRIPTION:
A man naps on his back on a daybed, a floral sheet pulled up to mid-chest. His right arm is curled around a white bull terrier, whose head and paw rest over the large winged tattoo on the man's chest. A smartphone is clutched in the man's right hand. His ears, nipples and right nostril are pierced. Tattoos can be seen on his upper chest, shoulder, and all down his left arm.
STORY LETTER:
Dear Author,

I've always been the good kid, did everything I was supposed to. I never partied and I always earned perfect grades. Then I went to college straight out of high school and earned my degree. I always do whatever is asked of me, I take care of everyone now, including my parents. I'm twenty-five and I'm so busy taking care of everybody else's lives I have no time for one of my own. My social life consists of my rescue beagle and two cats, but one night a friend from work made me go with him to a party where I meet Kyle. He's covered in tattoos and piercings, and he's the bad boy of my every fantasy, the type of guy I'm absolutely not supposed to want. Or at least that's the way he appears. And he seems to be looking at me just as much too. Please tell me how we got to this point, how I was able to see this sight in front of me, and how he made me fall in love with him.
Please give these two a HEA, or at the very least a HFN, the rest is up to you.

Sincerely,

Raylynn
STORY INFO:
Genre: contemporary
Tags: men with pets, men who cook, accountant, agility dogs, tattoos, coming out, hurt/comfort, sweet/no sex
Word Count: 44,951
Acknowledgements
I would like to thank the members of the Love's Landscapes Authors Support Group. I hope we kept each other sane and grounded during this process. Also my beta readers and early editors: Liz, thanks for the almost daily encouragement and intense editing; Karen, thanks for reading the chapters as I wrote them and helping me tweak the story as I went; Amanda and Michelle, thanks for your insight into what scenes needed help! Thanks to my spouse and my cats. And, of course, thanks to Raylynn for the prompt, and all the DRitC volunteers for organizing this event and working behind the scenes on our stories.
EVENT: Love's Landscapes
Agile Moves on Goodreads
ePub | Mobi | PDF
Review Agile Moves on Goodreads