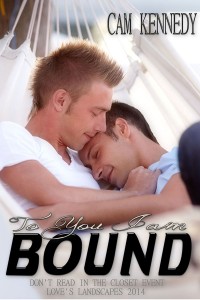 PHOTO DESCRIPTION:
Photo One: Two men on rocks, in front of water, with their backs to the camera. One is sitting with his hands on his knees, and the other is standing with his hands interlaced on the back of his neck. Steam is coming off the water, and they are dressed in tight black shorts or possibly boxer briefs
Photo Two: Kissing, naked men, one dark-haired and the other lighter, rub intimately together.
STORY LETTER:
Dear Author,
Please take inspiration from the song Bound by Julia & the Doogans. Just to pique your interest, follow the link for the lyrics:
For the most part, I'm open to whatever this song speaks to you. But to help, here are some things that I happen to enjoy:
* GFY/OFY, coming out, dirty dancing/clubbing, sports/athletes, soldiers, forbidden lovers, angst (oh please, don't give me something super fluffy, give me something with depth that makes me want to crawl in a hole and mourn for a while.), friends/enemies-to-lovers, one night stands/fuck buddies turning into something more.
* I'm cool with brocest, lighter kinkness, dark stuff, but please give me a happy ending that makes the journey worth whatever comes between the start and the end.
* No thanks to threesomes+, other than that, do what speaks to you (genre included, go to the world you want, just bring me back a piece of it).
Sincerely,
Samantha
STORY INFO:
Genre: science fiction, post-apocalyptic
Tags: dystopian, alternate universe, law enforcement/special agent, homophobia, men with children
Content Warnings: child abuse/abduction (off page)
Word Count: 21,565
Dedication 
To Samantha who left me with a wide-open canvas on which to paint. To the Readers who wanted more of my world from "Carry On". To Lou Sylvre and Jodi Pushkin, without you both I would be a mess. Thank you from the bottom of my heart.
EVENT: Love's Landscapes
To You I Am Bound on Goodreads (NSFW)
ePub | Mobi | PDF
Review To You I Am Bound on Goodreads