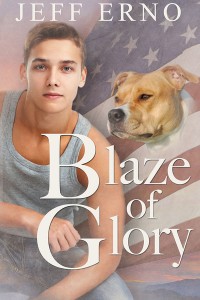 PHOTO DESCRIPTION:
A shirtless man lies on a rumpled bed, his head and arms cuddle around his Staffordshire terrier. A look of sadness creases his face.
STORY LETTER:
Dear Author,

You see this guy? I met him through the Pets for Vets program that provides a second chance for shelter pets by rescuing, training and pairing them with veterans with PTSD who need a companion. (Am I a shelter volunteer? A veterinarian? Or something else entirely?)
And boy, does this guy need his companion. But can we make it work when he obviously has so much to work through? What happened to him? And how can I possibly fit into their lives?
(I'd like an HEA for both humans and dog. Preferably no paranormal.)

Sincerely,

Astrid
STORY INFO:
Genre: contemporary
Tags: soldier, Marine, PTSD, mental illness, canine, pets, service dogs, forgiveness, healing
Word Count: 15,396
EVENT: Love's Landscapes
Blaze of Glory on Goodreads
ePub | Mobi | PDF
Review Blaze of Glory on Goodreads