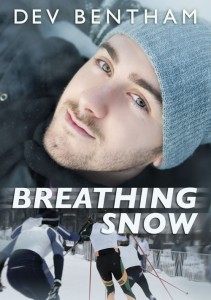 PHOTO DESCRIPTION:
Two men stand whisper-close, one second from a kiss.
STORY LETTER:
We've hated each other for three years. Since we were supposed to be rivals and everyone expected us to fight, we just did it. But then we met under completely unexpected circumstances and realized that neither of us is the prick we thought the other one was. Eventually, we became friends and now I cannot imagine a life without him. Just a few people know that we only fight for publicity now and actually like each other very much.

But during our last "fight" something went awfully wrong. He grabbed me in front of the cameras and kissed me! And I liked it! Now, everyone asks me if we are gay or if that was some kind of prank. But I really don't know! I need to talk to him but he doesn't react to my phone calls. The only thing I know is that I don't want to lose him.
Dear Author,
It's up to you if these two are movie stars, athletes or some other kind of famous people. You can also decide if the story starts with their first meeting or the first kiss or at another point. I just want some hot and sizzling sex, but also tender moments, a little angst and a sweet HEA or HFN, but please no BDSM.
Thank you very much! 🙂
Sincerely,
Fina
STORY INFO:
Genre: contemporary
Tags: athlete, enemies to lovers, sports, coming out, in the closet, oral sex
Word count: 15,170
Dedication 
For Fina
Acknowledgements 
Abundant gratitude to Jordan Castillo Price, Goesta Struve-Dencher and Laurie Jo for all the wonderful suggestions. This is a deeper story because of you. And Jordan, thank you for the gorgeous cover. I'm seriously in awe of your many talents. Thank you also to Cheryl and the wonderful LHNB elves for all their help polishing the story— I have no idea how y'all do these events and do such good, thoughtful work on an astonishingly short deadline.
Breathing Snow on Goodreads

PDF | Mobi | ePub
Review Breathing Snow on Goodreads