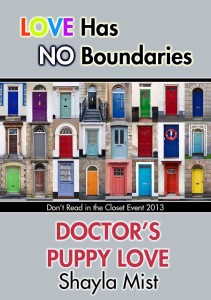 PHOTO DESCRIPTION:
A beautiful monochrome photo featuring a handsome man, his head lying on his lover's naked back, savoring the moment with his eyes closed. Maybe he's dreaming of how perfect their life is.
STORY LETTER: 
Dear Author,
Our jobs are stressful and heartbreaking, but coming home to him makes everything better. He makes me smile even when I'm angry at the whole world and being with him makes me stronger.
Of course, the first time we worked together he called me an arrogant heartless bastard. Mind you, I had just referred to him as 'the spineless wonder from the Land of Too Naive to Survive.' It wasn't like I realized he was listening.
It took a long time of working together before we starting to respect each other, and longer still before I realized he was the center of my world. It took a lot of sarcasm (him) and name-calling (me) before we got to that point.
Perhaps you could tell the story of how we got from there to here.
Sincerely,
J.
No BDSM or power games, please, but snarky banter a plus.
STORY INFO:
Genre: contemporary
Tags: medical personnel, men with pets, blow job/fellatio, enemies to lovers, anxiety disorder
Word count: 20,602
Doctor's Puppy Love on Goodreads

PDF | Mobi | ePub
Review Doctor's Puppy Love on Goodreads