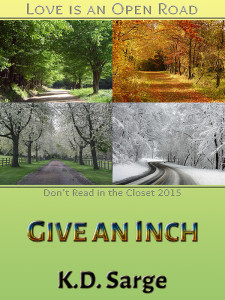 PHOTO DESCRIPTION:
A young man in a beanie lies on a couch, a gray-and-white kitten asleep on his chest and a black-and-white kitten exploring. He smiles at them.
STORY LETTER:
Dear Author,
The court settlement left me with enough money to buy a house as isolated from other people as I could get. I vowed I'd never let anyone close again and spent my days fixing the place up and trying to forget.
Then a feral cat dropped her litter in the shed out back and disappeared. I couldn't leave newborn kittens to die, but a city boy like me had no clue how to care for them. Thank goodness for Google. Supply list in hand, hair tucked under a hat that shadowed my face, and eyes covered by glasses, I dared to venture into town.
I met him (picture) at the local feed store. I guess he's not into watching the news, since he didn't seem to know who I am. He helped me save the kittens. He's dyslexic, which he thinks makes him stupid. He's far from that. He's kind and gentle, and he's starting to slip under my barriers. Starting to make me crave his touch. But how can I bare my body to him after what they did to me? What they made me?
Sincerely,
Tully
P.S. No shifters or vampires or cheating. I like dark offset by sweet.
On page sex, especially frottage, appreciated
STORY INFO:
Genre: contemporary
Tags: celebrities, mild depression, men with pets, PTSD, learning disability, blue collar, past injuries, scars, small town, hurt/comfort, chronic pain
Word Count: 17,139
EVENT: Love is an Open Road
Give an Inch on Goodreads
ePub | Mobi | PDF
Review Give an Inch on Goodreads