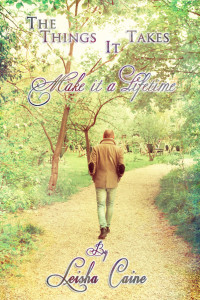 PHOTO DESCRIPTION:
Three pictures: the first is a couple holding hands during a spa treatment. Adorable, but not the one I wish to focus on. The second is where the story gets interesting― it displays a man kneeling on a bed naked, in deep contemplation. Look at his body― he is tense, conflicted, out of sorts… It's a fascinating state of mind. The third is a gif displaying self-resentment, pain and determination― three pictures, one perfect story arc.
STORY LETTER:
Dear Author,
We've been best friends since elementary school. We were each other's first everything; friends, kiss, lovers, boyfriends and almost husbands. We were happy once, the kind of happy that makes others sick, envious, jealous, I could go on and on… but things changed. I thought it was what we needed, this thing I did, and I didn't think it through. He's not with me anymore, he's gone. Now, I have to make it right. I have to fix this. I can't lose him. I'll do whatever it takes.
Sincerely,
Sara
P.S. Please no shifters, aliens, sci-fi, fantasy or paranormal.
STORY INFO:
Genre: contemporary
Tags: academics/knowledge workers (lecturer and surgeon), established couple, poetry, second chances, tearjerker, travelling
Content Warnings: An act of physical cheating occurs just before the story starts and is then disclosed (story contains flashbacks). There are elements of emotional cheating throughout. Mild swearing.
Word Count: 20,252
Dedication
First and foremostly this is for Sara, thank you for this beautiful inspiration for something I didn't even know I needed to write.
Secondly, the concepts of, 'love of my life' and 'home' have always been difficult ones for me to comprehend. I've loved and lost, more often than not without fully grasping what was happening. Sometimes I curse the heavens for being such a free and eager spirit, for not being able to settle down completely, for being incapable of loving to the degree that I think I should.
But here is the thing I learned. You do not need one 'love of your life'. You do not need one 'home' and nothing has to last a lifetime. The things that are worth it, worth all the struggle and the pain, the things that still stand strong long after the fact, are the ones that will be defining at the end of the day.
And I do have many 'loves of my life' right now, supporting me through all the things that are happening. Sometimes I wish I could have more with them but I am eternally grateful to have them in any way I can.
So this is for…
• My husband, who never complains about my late-night work sessions, who holds me together when I go out of my mind. Who holds me like no one else can
• Sanet and Francú – we all know this would have never happened without your help and words of encouragement – I owe you a fancy dinner and lots of good wine. Most importantly, I owe a huge part of my current happiness to the both of you
• Davide, the man on the cover, a constant in my life, despite all the craziness we both have going on. Thank you for always being here, no matter what
• Kim, Aya and Lisa – you will never know how much it meant to me that you shared this experience with me and helped me be better
Thank you, from the bottom of my heart.
EVENT: Love is an Open Road
The Things It Takes… (Make It A Lifetime) on Goodreads (NSFW)
ePub | Mobi | PDF
Review The Things It Takes… (Make It A Lifetime) on Goodreads