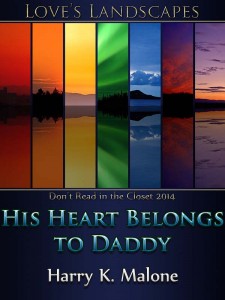 PHOTO DESCRIPTION: 
A well-muscled man in a leather shirt and leather cap sits astride a motorcycle. He has one hand on the throttle, and with the other he's holding a second man in place on the seat. The second man is naked except for a pair of black boots. He's leaning against the biker, his eyes closed in bliss.
STORY LETTER: 
Dear Author,

That's me with my Daddy.
Yes, my Daddy is younger than me. Yes, people usually mistake our relationship roles when he allows me to discuss them. I'm older, taller than my Daddy and I love to bottom. I came out of the closet later in life, always wanting for someone to take care of me the way my Daddy does. Sometimes I step out of line but I need my Daddy to keep me in line. He helps me find the right balance, sometimes with toys or discipline. Could you please tell our story, give a glimpse into our daily lives?
I'd prefer a contemporary setting. Bikers a plus! 

Sincerely,

SheReadsALot
STORY INFO:
Genre: contemporary
Tags: BDSM, Daddy/boy, flogging, age gap, men with children, businessmen, over age 40
Word Count: 25,370
Dedication
For JSS, who may not understand but always supports.
EVENT: Love's Landscapes
His Heart Belongs to Daddy on Goodreads (NSFW)
ePub | Mobi | PDF
Review His Heart Belongs to Daddy on Goodreads