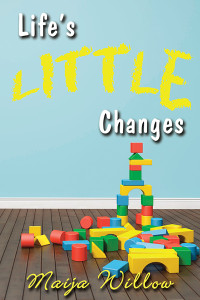 PHOTO DESCRIPTION:
A strong man with short brown hair in a blue, white, and green striped sleeveless T-shirt is carrying another man― also with short brown hair, who is wearing a white sleeveless T-shirt, denim shorts, and red high-top sneakers― down a city street. The man being carried has his head comfortably resting on the other man's shoulder. His eyes are closed and he appears to feel safe in the other man's arms.
STORY LETTER:
Dear Author,
See that strong guy carrying me? That's my Daddy and I'm his little buddy 🙂 We are in a Daddy/little boy kind of relationship. No I don't wear diapers, I'm not THAT little, although Daddy has threatened to put me in diapers once or twice for misbehaving. Mostly I get spankings or a paddling when I misbehave. I can be kinda bratty sometimes, and I tend to run my mouth off sometimes too. But really, I'm a good boy. But I did something bad the other day and Daddy got mad, really mad, and I got scared that he didn't love me anymore and didn't want to be my Daddy. So I did what little boys do and I ran away. It was a pretty stupid move, you see, we just moved to the area and I didn't know my way around the city. Thankfully, Daddy grew up in this city and knows his way around, and he went out to find me. We had a long talk after he found me in a park, and we worked it all out. Afterwards, he carried me home and made me macaroni and cheese, just the way I like it, with cut up hotdogs in it and chocolate milk. Of course that was after receiving my punishment for running away. I'm glad we straightened things out. I love my Daddy so much; he means the world to me.
Please no fantasy, sci-fi, historical or paranormal.
Sincerely,
JenTed
STORY INFO:
Genre: contemporary
Tags: businessmen, BDSM, fetish/toys, age-play, established couples, anxiety disorder
Word Count: 21,267
EVENT: Love is an Open Road
Life's Little Changes on Goodreads
ePub | Mobi | PDF
Review Life's Little Changes on Goodreads