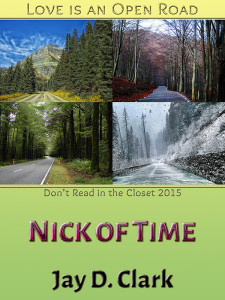 PHOTO DESCRIPTION:
The first photo, in sepia tone, depicts a well-dressed man of a past era holding an open book in one hand and his own sizeable erection through his suit pants with the other, revealing himself to be a player, flirting with the camera. The second photo shows a young man in chauffeur's suit leaning on a vintage car from the nineteen fifties.
STORY LETTER:
Dear Author,
Four years of college landed me a job of driving "the car of the day" for a guy (or gal) who invented [insert stupid, absurd invention here] and made a ton of money. Bored waiting for my boss outside a party, I wandered through to an old-fashioned smoking or gentleman's room. There were cool, old-timey photos, including this guy, whoa!
Tell me how this sausage man joins me, or I go back in time to him?
Sincerely,
Kym
STORY INFO:
Genre: science fiction
Tags: time travel/loops, multiple lives, war, gay resistance fighters, m/m/m ménage, age gap, telepathy, tattoos, public activity
Content Warnings: wartime violence, hate crimes, retribution, dubious consent, and references to off-page rape, torture, and mutilation
Word Count: 42,070
EVENT: Love is an Open Road
Nick of Time on Goodreads (NSFW)
ePub | Mobi | PDF
Review Nick of Time on Goodreads