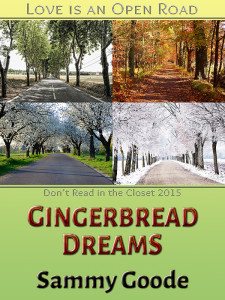 PHOTO DESCRIPTION:
The first photo shows a naked man tying an apron around his waist, his muscled arms out-stretched as he stands in his kitchen, ready to begin cooking. The second photo is a display of BDSM themed gingerbread men all decorated in leather jock straps and belts. Some have leather straps crossing over their chests; while others also sport a leather frosting hood on their tiny cookie heads.
STORY LETTER:
Dear Author,
I love baking and trying out new recipes, it relaxes me after a long day at work. My elderly neighbour is very often the happy recipient of my creations because, as she says, she can't bake to save her life. The last time I was at her house she informed me that she had volunteered me and my creations for her church's charity bake sale but I shouldn't worry I wouldn't be alone as she had also volunteered her grandson to be in charge of the thing and anyway it was high time he and I met. I gave in and decided to bake gingerbread men, gingerbread women and horses for the bake sale and, as I had enough dough and time, I made kinky gingerbread men for a friend who's a submissive and was planning a surprise birthday party for his Dom.
I overslept and was running late to deliver my charity gingerbread persons and must have picked up the wrong tin. I only realised my mistake when the cute guy with the wild auburn locks who was running the church bake sale opened the tin, his gasp and the deep blush that crept over his face seconds later were adorable.
And that was the start, tonight I am cooking for him as after a lot of pestering he finally agreed on a date.
Please tell the story of how we got here…
Sincerely,
Kat
STORY INFO:
Genre: contemporary
Tags: pastry chef, D/s relationship, light BDSM elements, spanking, humorous, bratty sub
Word Count: 11,563
Dedication
This story would not have been possible were it not for my incredible beta reader and friend, Shaz. She tirelessly combs over my rough drafts and not only cleans them up; she makes them better every time. Thank You for all your hard work, Shaz― I love you dearly, my friend!
EVENT: Love is an Open Road
Gingerbread Dreams on Goodreads (NSFW)
ePub | Mobi | PDF
Review Gingerbread Dreams on Goodreads