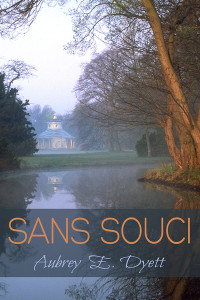 PHOTO DESCRIPTION:
It is the middle of the 18th Century. The King of Prussia, slender and elegant in clothes of the finest cut, heavy lace at throat and cuffs, his dark jacket open to reveal a cream waistcoat and wearing fine breeches and knee-high boots, stands alone in the centre of a magnificent music room watched by his courtiers, ladies of the court and a group of musicians. He is playing the traverse flute, his eyes fixed intently on the music sheets in front of him as he plays, accompanied only by a harpsichord. In the wings Johann Quantz watches.
STORY LETTER:
Dear Author,
I am Frederick the Great. As you can see, I stand there all alone. When I was young, my father killed my lover Hans Herrmann von Katte and made me watch. This changed my life forever. But what if Hans and I had managed to escape together, or at least, managed to be together? Would we have loved each other until the end of our lives? Would our bond have survived even marriage to others and hiding ourselves from the court? Please, show me a reality where we would have been happy, loving and together.
Please, no alternate ok-homo universe, I'd prefer this to take place in our universe. Please try to be as close and true to actual history as possible and give those two a happy ending which works within history!
Note: I very much wanted to see this story from Terra's prompt written last year, and hope it will find an author willing to bend the history of a king just this tiny bit. All kudos for this prompt go to Terra's original brilliant idea!
Sincerely,
Joan
STORY INFO:
Genre: historical
Tags: royalty, non-explicit, abuse, arranged marriage, angst, long lost love, tearjerker, grief, coming of age, family drama
Content Warnings: death
Word Count: 14,608
Acknowledgements
Thank you, Joan and Terra, this was a wonderful prompt. Thank you, Raevyn and Sue, for your patience. Thank you, Jennifer Mattison, for your wonderful editing. Thank you, Frederick, for being one of the most fascinating princes and kings of them all!
Dedication
I dedicate this story to Hans Hermann and You Know Who.
EVENT: Love is an Open Road
Sans Souci on Goodreads
ePub | Mobi | PDF
Review Sans Souci on Goodreads