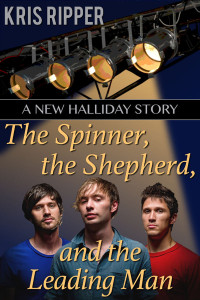 PHOTO DESCRIPTION:
Three young men in Navy uniforms stand on stage, arms outstretched, singing their hearts out.
STORY LETTER:
Dear Author,
Oh what a tangled web we weave
When first we practice to deceive…
– Sir Walter Scott (Marmion, 1808)
Three theater employees working on a production of your choice. One must be the deceptor, the loner, deceiving himself that he is straight. One must be the lure, the pretty one, the one the other two desire. One must be the spider, the catcher, the one to draw them all together into a tangled web of bodies and minds, hearts and souls.
Although my photo shows all three "on stage" you may place them anywhere within the scope of theater work: set construction, stagehand, understudy, etc…
M/M/M, everything else is up to you.
Good Luck,
Sincerely,
Alexis
STORY INFO:
Genre: contemporary
Tags: theater, summer stock, poly mmm, coming out, coming of age, MC who drinks a lot, humorous, friends to lovers, performing arts
Content Warnings: the main character drinks way too much.
Word Count: 38,533
Dedication
For Alexis, who wanted to see the spider spin his web.
Acknowledgements
All right, mad props (ha ha ha, a Frazier-worthy pun) go to Jonathan Penn, who handed me these three plays practically gift-wrapped. He also held my hand through a great deal of theater-ignorance-related rending of garments and beta read this pup complete with translations to TheaterSpeak, where applicable. This story is a hell of a lot tighter for Jonathan's influence, and I'm hugely indebted to him.
Additional mad props (and greasepaint stains) to Wendy, who muddled through a first draft sent without a pivotal scene and still managed to be encouraging instead of murderous. As always, Wendy's minute fine-tunings clarified all the relationships; she's forever showing me how to write the book I meant to write, instead of the one I wrote.
Vicky Heysham and Anna Main also provided lovely feedback and snark, making this batch of revisions some of the least horrifying I've ever accomplished.
And a last huge tribute to the entire team at the Goodreads M/M Romance Group, who put on the incredible Don't Read in the Closet event every year. It's a tremendous amount of work, and loads of fun for those of us who participate!
EVENT: Love is an Open Road
The Spinner, the Shepherd, and the Leading Man on Goodreads
ePub | Mobi | PDF
Review The Spinner, the Shepherd, and the Leading Man on Goodreads