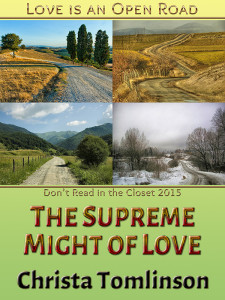 PHOTO DESCRIPTION:
Three men are dressed in the garb of ancient Rome. The man in the centre sits on a chair that is draped in rich red cloth. His face is soft, yet patrician. His slender body is adorned in the briefest of gold armour. The men on either side of him are dressed as warriors, their powerful chests and thighs bare. One warrior gazes at the man in the centre, while the other stares at you.
STORY LETTER:
Dear Author,
I am Mars, Guardian of soldiers and farmers― God of War, Destruction, and Masculinity. People mostly know about my female lovers, but now and then I crave the strong form of my followers and come to male mortals. This time, this soldier and this gladiator have caught my fancy because violent desire― powerful and manly― is growing between them, and I want to be part of it. I have a feeling I will get so richly tangled in the battle of their love that I might consider staying with them until the end of their lives.
It may seem to you that I look soft in this image, but it is because I want them to think they can guard me, and not the other way around. I want them to fall in love with this idea of me, not with their fierce protector, even if their lives have been in my hands more than once.
Make us an epic love story (keeping the angst levels low, for these are dynamic men, and I am ferocious predator― even in this soft form), and I will inscribe your name in the stars forever as reward.
Hello! Say good-bye to Mars, Gabbo here. I'm not a history buff, but I need to feel the story accurately ingrained in its time period, and it must be a three-way through and through. If all three hunks could be sexually versatile it'll be even better. Thanks!
Sincerely,
Gabbo
STORY INFO:
Genre: historical
Tags: Ancient Rome, enemies to lovers, gods, soldier, gladiator, poly mmm, mythology, switch/versatile, 2 alpha males, storytelling
Content Warnings: graphic violence
Word Count: 20,328
From the Author
First, I would like to thank the M/M Romance Group for all the amazing work they do putting on this event. It's a lot of fun and I know there are countless readers and writers who appreciate it. Also, thank you to Gabbo for this prompt! I thought it was wonderful and I chose it for the chance to indulge in something I've gotten away from, my love of ancient history. I hope you enjoy this story! A very special thank you to Crystal, Holly, and Linzey for beta reading for me. Your pairs of eyes were very helpful!
EVENT: Love is an Open Road
The Supreme Might of Love on Goodreads
ePub | Mobi | PDF
Review The Supreme Might of Love on Goodreads