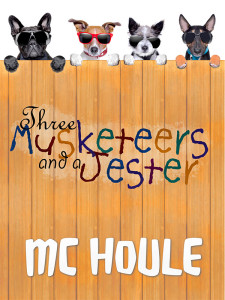 PHOTO DESCRIPTION:
Two mid-twenties tattooed men are in the shower looking up. They hold each other's crotch while grinning at the camera.
STORY LETTER:
Dear Author,
See those two? Those are my best friends since forever, they're also both "straight". I've always known I was gay and they've never seen me as anyone other than their third musketeer, no matter who I date. I'm the more reserved of our group and these two are constantly trying to outdo one another in the crazy-dare-department. I usually have to run interference or play judge at some point, but with them, the laughs never stop and they never cease to surprise me.
I've noticed things have been a bit 'different' lately. Not bad, but our dynamics have shifted in some way I can't really figure out. Hottie A (name the boys whatever you want) just got dumped for always putting Hottie B and I first and Hottie B just can't seem to settle in past two dates with any girl. I've got a newish boyfriend who I'm pretty sure I love desperately already, and he's working his way into our group slowly but surely. He asked me the other day if A & B are out yet and how long have they've been seeing each other in "that way". At first I thought he'd gone completely nutters, but now I'm not so sure.
After a particularly dirty dare battle the two ended up in the shower at our apartment together. We have a pretty open door policy when it comes to bathroom politics but I never thought they'd be in there together! What the heck is going on????
Sincerely,
Ann
STORY INFO:
Genre: contemporary
Tags: established couple, coming out, bisexuality, tattoos, cross-orientation, wedding, actor, blue collar
Count: 11,708
Acknowledgements
Thanks to Pat and Dawn for the work they did on the story.
EVENT: Love is an Open Road
Three Musketeers and a Jester on Goodreads (NSFW)
ePub | Mobi | PDF
Review Three Musketeers and a Jester on Goodreads