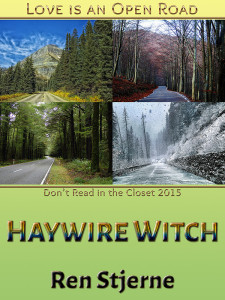 PHOTO DESCRIPTION:
A young man stands in a pool of water in soaking red shorts and pink fluffy earmuffs. Behind him, water splashes out of a broken fountain. His expression shows concern, possibly guilt.
STORY LETTER:
Dear Author,
This is me, causing trouble again. I don't know what happened. One moment I was having a conversation with my roomie and the next thing I knew, the fountain exploded and I'm drenched in stink water. Ugh. Thanks to the hot summer day nobody seemed to mind that I had no idea how to get the water back under control.
The thing is, I'm a witch and I suck at magic.
I stopped using the little magic I knew since moving into the city about a year ago. Completely. It's "fun" enough being gay, I didn't want to be a witch too. I hate keeping secrets and the witchery thing was definitely supposed to be one. Not using my powers had me thinking I could be normal for a change. Tough luck. Since meeting "him" a few weeks ago, all shit went to hell. Every time he comes into the ice-cream shop I work at my magic goes crazy, doing the most embarrassing things!
Nothing was meant to happen today! But then I saw him. My pistachio guy–tall, dark, and gorgeous. Always wearing a suit, always ordering pistachio ice-cream. And always giving me those secret smiles. His being around today definitely triggered my sucky magic to go haywire, and causing the fountain to put on a show. Thanks!
My lack of witchery knowledge was starting to get me into deeper trouble than I'd ever expected was possible. But I had to find him and… then what?
Sincerely,
Riina Y.T
STORY INFO:
Genre: urban fantasy
Tags: accidental cross-dressing, age-gap, college, fantasies, first time, humorous, magic, mythical creatures, professor, witch/human
Content Warnings: light spanking
Word Count: 27,238
In Memorium
Beulah Mae – I miss you.
EVENT: Love is an Open Road
Haywire Witch on Goodreads
ePub | Mobi | PDF
Review Haywire Witch on Goodreads