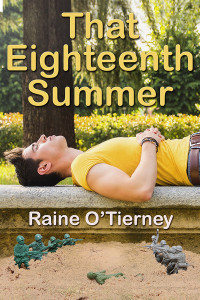 PHOTO DESCRIPTION:
Two men snuggle together. One, dark haired, bearded, and wearing a gray Henley, sits on the floor, leaning against the foot of the bed. The other, also dark haired and dressed in jeans and a black sleeveless tee, lays his head on the first man's shoulder. Both have their eyes closed. There is a bold green and cream patterned bedspread on the bed. The early morning light perfectly accents the photograph.
STORY LETTER:
Dear Author,
All my life I idolized my older brother. He was popular, always had pretty girlfriends, and was wicked smart. When he joined the military, I thought I would follow in his footsteps.
When I turned eighteen, the summer after graduating high school, the army men came to the door to deliver the blow. My brother was dead. When his best friend and fellow soldier came to his funeral, I felt like I had a part of my brother back. Someone I could talk too. Someone who understood the loss of my best friend and inspiration.
I had always hoped to be like my brother and have a hot girlfriend, so I don't understand why I am starting to feel something for this man. Why am I turned on? Why do I want to feel how soft his lips are?
Sincerely,
Dana
STORY INFO:
Genre: new adult, contemporary
Tags: coming of age, disability, early 2000s, grief, hurt/comfort, in the closet, military men, tearjerker, virgins
Content Warnings: underage drinking, virgins barebacking
Word Count: 46,480
Dedication
For Debbie, who taught prepositions by example. She pulled me through self-doubt, led me aroundthe pitfalls, and helped pick me up when I fell flat on my face time and time again.
Acknowledgements
A very special thank you to "Chandler" for teaching me how to write kissing scenes that take place in cars, and "Michelle" for showing me the best way to paint my nails― and to both of them for beta-reading this story.
EVENT: Love is an Open Road
That Eighteenth Summer on Goodreads
ePub | Mobi | PDF
Review That Eighteenth Summer on Goodreads