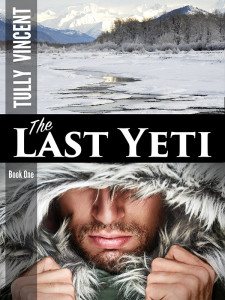 PHOTO DESCRIPTION:
A well-built man with dark facial hair stares into the camera, eyes piercing and expression uncompromising. He wears primitively constructed fur clothing that leaves much of his muscular, veiny arms and toned torso bared to the weather. Although his skin is damp from the snow, he seems unaffected by the cold.
STORY LETTER:
Dear Author,
Yetis are made to wander the wilderness mostly alone, and only meet up occasionally. For three long years I have searched the earth and, finally, I have accepted it: I am the last of my kind. I do not belong in the world of people or technology, but the only other choice is dying of loneliness. I have managed to create a life on the edge of society, terrified to come close, terrified of being recognized as the monster only little children believe in. Lately I have realized staying in the wilds may have been a less desolate life.
Can you maybe find me someone to be alone with together?
I don't have a setting or specific guys in mind. It could be set up in Alaska, in a big city or on a tropical island. I would like a world where there are no other shifters or other paranormal beings.
I like contemporary, like plot complementing hot steaminess, and prefer angst over sweetness. Happy endings are not necessary and a HFN does a lot more for me than HEA. No kids please, no mysteries, and no BDSM, but otherwise I'm open to almost everything.
Sincerely,
Gwynn
STORY INFO:
Genre: paranormal
Tags: shifters non-wolf/cat, interspecies, disabilities, hurt/comfort, first time, visual arts, tearjerker, grief
Content Warnings: graphic violence, graphic descriptions of deaths
Word Count: 69,742
Acknowledgements
Thank you to Gwynn Marssen for such an inspiring prompt; I hope that I've done it justice.
Thanks to Bree Archer and Steelwhisper for your generous assistance and advice with my cover, to my editor, Raevyn, and to all the other Goodreads M/M Romance group's volunteers.
This story may not have ever seen the light of day without the support and encouragement of Jaye McKenna, Lia Black and Kaje Harper. Lia helped me peel myself off the ceiling about halfway through and made time in her busy schedule to beta my story. Kaje Harper was my last beta reader and her advice was invaluable in making this story what it ended up being. And Jaye McKenna, my first beta reader, my ideal reader, the one who was there all along the way in the sprint thread as well as ever willing to re-read portions until I'm sure she was sick of it… I cannot even say how much I appreciate you. Jaye, this one is for you.
I feel like the luckiest newbie ever to have had such awesome help in this process. Big huge furry yeti hugs to each of you. Thank you so much.
Author's Note
I enjoyed these characters so much that I am already working on a second book in the series. However, please be assured that this is a full and complete novel in itself. There is most definitely not a cliffhanger ending. Thank you.
EVENT: Love is an Open Road
The author is expanding this story. To read the original, please go here:
The Last Yeti on Goodreads
Review The Last Yeti on Goodreads
At the request of the author, this story will

not

be included in the anthologies.